Sports » Latest News
OKWU Baseball
Posted: May 10, 2019 2:53 PMUpdated: May 10, 2019 4:32 PM
Experienced Eagles Ready for National Tourney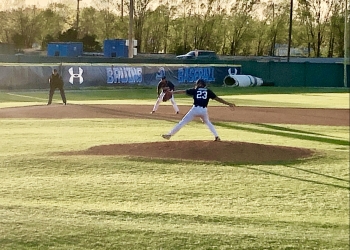 Oklahoma Wesleyan baseball is making its return to the NAIA National Tournament for the third consecutive season. The Eagles will watch seven seniors receive their diplomas before hitting the road for Henderson, Tennessee on Saturday afternoon.
The Eagles boast a strong contingent of players who appeared in last year's national tournament. A few players remain from the 2017 team that made it to the NAIA World Series. Although first-year head coach Kirk Kelley wasn't the skipper for those teams, he knows that the veteran players have valuable experience.
The Eagles hope they can replicate their pitching performance from the Kansas Collegiate Athletic Conference tournament. OKWU needed just five pitchers to earn four straight victories. Michael Anderson, the projected game No. 1 starter, threw a complete-game shutout as did Tyson Cronin. The Eagles threw 23 complete games in 52 tries so far this season.
The top-seeded Eagles await the winner of Concordia, Nebraska and Clarke, Iowa on Monday at 7 p.m. on Monday night from Freedman-Hardeman University in Henderson, Tennessee.
« Back to Sports