Sports » Latest News
Sports
Posted: May 16, 2017 6:16 AMUpdated: May 16, 2017 8:07 AM
Eagles Take Game 1 in Regional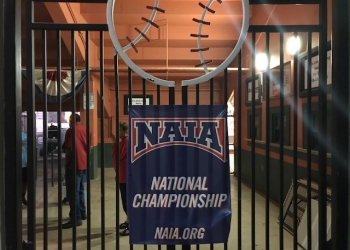 Day number one of the Bartlesville Regional is in the books for Oklahoma Wesleyan in the NAIA Baseball Tournament.
The Eagles have moved on to the semifinals of the tournament with a 10-5 win over Midland, Nebraska on Monday evening at Bill Doenges Memorial Stadium.
OKWU and Midland were tied at five heading into the top of the seventh when Oklahoma Wesleyan put up a four-spot. Two of those runs came of a Will Price home run to right center field.
That was the first of two home runs in the game for Price, who finished the day with four RBIs. Chris Tapia had four hits and the Eagles cruised in the late innings.
Landon Williams, Lizandro Cruz, and Tyler Shumpert all pitched scoreless relief outings after a good start from Zach Johnson.
Oklahoma Wesleyan moves on to face Indiana Tech on Tuesday afternoon at 2:30. The winner of that game will head to the first of two possible championship games on Wednesday.
Other finals yesterday, Indiana Tech topped Bryan, Tennessee 17-10, and Midland beat St. Ambrose 10-4 in the play-in game to face the Eagles.
That sets up an elimination game between St. Amrose and Bryan on Tuesday morning at 11:00. The winner of that game will play Midland at 6:00 PM in another elimination game.
We will have the OKWU-Indiana Tech winner's bracket game at 2:30 PM on Sports Talk 1500 AM – KPGM and FM 99.1. You can also stream it online at BartlesvilleRadio.com.
The Eagles are 49-8 on the year.
---
Tuesday' Schedule:
11:00 AM - St. Ambrose vs. Bryan, Tennessee (Loser Eliminated)
2:30 PM - OKWU vs. Indiana Tech
6:00 PM - Midland, Nerbaka vs. St. Ambrose/Bryan Winner (Loser Eliminated)
« Back to Sports