Sports » Latest News
OKWU basketball
Posted: Sep 11, 2017 3:29 PMUpdated: Sep 11, 2017 4:30 PM
Donnie Bostwick Speaks At FCA, Previews Upcoming Season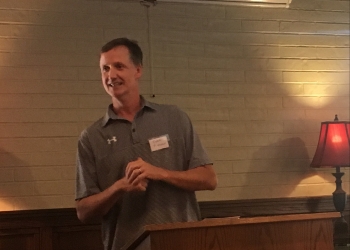 Oklahoma Wesleyan University men's basketball head coach Donnie Bostwick spoke at a Fellowship of Christian Athlete's lunch on Monday. The coach chronicled his journey back to Oklahoma Wesleyan after leaving for Southwestern Assemblies of God University following his first stint with the Eagles.
As far as on the court, OKWU began practice last week and Coach Bostwick has liked what he's seen so far.
The team released its schedule earlier this month. Bostwick will begin his second term with the team on October 27th when the Eagles take on St. Gregory's university as a part of the OKWU Classic.
A full schedule can be found here.
OKWU games can be heard on KPGM 1500 AM—FM 99.1 for this upcoming season.
« Back to Sports