Sports » Latest News
Dewey football
Posted: May 16, 2019 11:42 AMUpdated: May 16, 2019 12:43 PM
Doggers Emphasize Offense in Spring Practice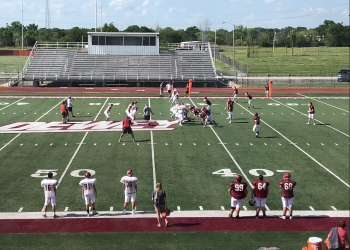 Spring football continues to rev up throughout the area this week. In Dewey, the offense will undoubtedly be a point of emphasis. Dewey called on former offensive coordinator Trent Turner to lead the team.
Turner called plays for the Doggers in 2016, the only time they've made the playoffs over the last five years. He was able to get the most out of running back Hunter Brewer and wide receiver Jonathon Blackmon, two of the better Dewey athletes in recent memory. Coach Turner says the offensive sets will look similar this fall.
The Bulldoggers offense struggled to 13.2 points per game while going 2-8 in the 2018 season. Turner knows what success looks like after helping 2A Adair reach the state semifinals last season as its offensive coordinator. Turner's biggest point of emphasis this spring will be ramping up the tempo.
We'll have more on Dewey football throughout the spring.
« Back to Sports