Sports » Latest News
Dewey football
Posted: Nov 07, 2018 1:02 PMUpdated: Nov 07, 2018 2:02 PM
Dewey Football Looking to Build Off 2018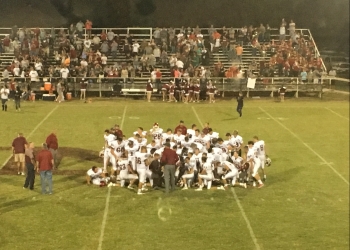 The Dewey Bulldoggers fell short of the playoffs for the second consecutive season in 2018. The Doggers had to build a new roster largely due to 17 seniors graduating from the program. Obviously, Dewey wished to achieve more than a 2-8 record this season, but wins over area rivals Nowata and Caney Valley show what the team is capable of going forward.
Dewey head coach Tyler Caid this season was great because so many underclassmen gained experience.
The Doggers will return starting tailback Zane Lorenz, and starting quarterback Kale Carner to lead the offense. Defensively, Lorenz will contribute as well as rising junior Corbin Buford at the linebacker position. Dewey will also returned a bevy of talented secondary players.
Caid has a 12-18 record in three season as Dewey head coach.
« Back to Sports