Sports » Latest News
Dewey Basketball
Posted: Feb 09, 2018 9:23 PMUpdated: Feb 09, 2018 10:23 PM
Dewey Finishes Undefeated Conference Season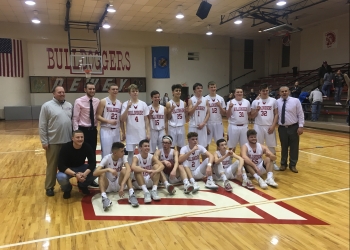 The Dewey Bulldoggers were able to gut out a tough home win over Caney Valley, 70-55. With the win the Doggers complete a perfect 8-0 conference season and move to 15-5 on the year.
The outcome was in doubt early on as the Trojans were able to control the game on the inside. Trojans center Christian Ballew had 12 first half points and Caney Valley took a 31-to-28 lead into the break.
Dewey shifted gears in the third quarter and came out firing from beyond the arc. Senior guard Blayz Rippy had just two points at halftime but he single-handedly gave the Doggers the advantage with his outside shooting. Rippy nailed four three-pointers in the quarter and had six for the game.
This three-ball stretched the Bulldoggers lead to double-digits early in the fourth.
Dewey knocked 11 three-pointers as a team on the game. Rippy finished with 26 points on the night. Caston Frye was impressive as well with 16 points.
Caney Valley played a solid game offensively but couldn't keep pace with the Doggers in the second half.
Dewey will be in action next on Tuesday as Caney Valley, Kansas will be the opponent on Senior Night.
« Back to Sports