Sports » Latest News
Basketball
Posted: Feb 01, 2014 5:35 AMUpdated: Feb 01, 2014 6:38 AM
Bruins win in Old Gym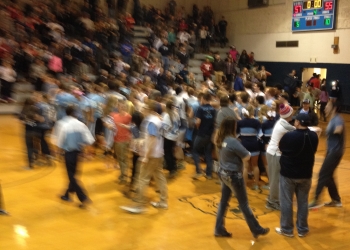 It was throwback night in the old gym at Bartlesville High School and the atmosphere was rowdy! It was only fitting that the Bruins Boys won on a buzzer beater and the crowd poured onto the court. Somewhere in the middle was Barron Tanner, a Bartlesville freshman. Tanner had just hit a jumper as the buzzer sounded for a 57-55 win over NOAH. Antonio Castillo scored 16 for the Bruins, Nick Shoemaker and A.J. Parker had 11 while Tanner had 10.
Earlier in the evening, the Lady Bruins were in control from the opening tip, for a 54-20 win over NOAH. Hailey Tucker led the scoring with 23 while Olivia Culver added 8. Everybody on the roster saw action for the Lady Bruins.
Next up, it's back in the fieldhouse for a Tuesday match up with Tulsa East Central. JV games will start at 3:30 with varsity girls at 6, followed by the boys varsity.
« Back to Sports