Sports » Latest News
Sports
Posted: Apr 11, 2018 7:34 AMUpdated: Apr 11, 2018 8:36 AM
Bruins Pick Up 1st District Win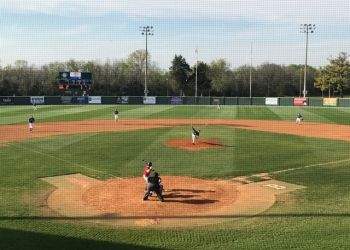 Bartlesville High baseball finally got a few bounces, as the Bruins picked up their first district win of the season on Tuesday night at Stillwater.
BHS blasted the Pioneers 11-5. Bartlesville scored nine runs, all with two outs, in the top of the third inning to pull away.
BHS walked five times, had four base hits, had a hit batter and Stillwater committed an error in a cathartic third frame. Bartlesville had scored three runs or less in seven of its last eight games until Tuesday. The Bruins sent 14 guys to the plate in the inning.
Calvin Johnson helped put the game away with this double that tacked on a couple in the third.
Johnson had a phenomenal day at the plate. He went 3-4 with four RBIs. Johnson continues to lead the Bruins in RBIs (23) and in batting average (.410).
The nine-run third distracts from another great pitching outing from Jakob Hall. Hall went the full seven innings, he gave up only four earned runs on five hits and walked just one. It was win No. 3 on the season for the freshman.
The Bruins will next make up last week's Ponca City game that was rained out on Thursday at Ponca.
« Back to Sports