Sports » Latest News
Bartlesville Public Schools
Posted: Mar 09, 2018 4:56 PMUpdated: Mar 09, 2018 5:56 PM
Bruins Host Track Meet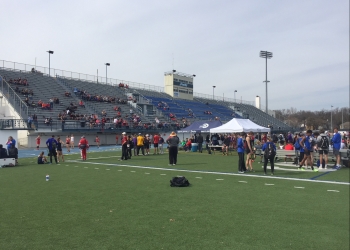 The Bartlesville Bruins had their first home track meet in five years.
Events started on Friday morning with the 4x100 meters, but it was the Bruin's distance squads that stole the show. The Lady Bruin's scored 20 quick points with their first-place finish in the 4x800 meter Relay led by Senior Rilee Rigdon. Rigdon would go on to earn gold in the 800 meter Run, 1600 meter Run, and the 4x400 meter Relay.
James Martinez led the way for the men's team. With silver medals in both the 4x800 Relay and 3200 meter Run, and a dominating gold medal with a 4:35 1600 meter run. Martinez's time was 15 seconds faster than the runner up from Lincoln Christian.
Dewey High School competed up a few classes today as well, with Hurdlers taking all but one event. Lady Bulldogger and State Champion Karissa Jones won gold in the 100 Hurdles, and Faylon Kight took first in both the 110 hurdles and the 300 Hurdles. Bulldogger Colby Rodgers took third in the 400 meter Run.
Other notable area athletes who competed today include:
Sam Martin 3rd 100m
Alex Merrifield 2nd 200m
Caleb Eiden 2nd 800m
David Lully 1st High Jump
Cody Keesling 3rd Shot Put
Liza Williams 1st 3200m
Sarah Covell 1st 300m Hurdles 2nd 100m hurdles
Jillian Kalicky 1st 400m
Madi Taylor 2nd 400m
« Back to Sports