Sports » Latest News
Sports
Posted: Apr 10, 2018 7:38 AMUpdated: Apr 10, 2018 8:38 AM
Bruins Fall to Stillwater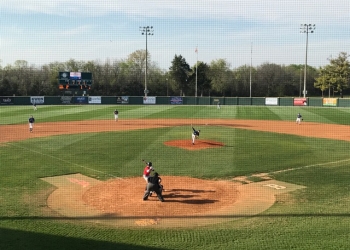 Bartlesville High baseball finally got a home district game on Monday night at Bill Doenges Memorial Stadium, but the Bruins couldn't make the most of it.
Stillwater came into town and beat BHS 7-2.
Bartlesville trailed 7-0 in the bottom of the seventh before the Bruins put together a little rally. Lucas Reitfors again had the big hit, an RBI single that gave Bartlesville some hope late.
The Bruins (6-12, 0-8) would tack on one more in the seventh, but that would be it. Stillwater had baserunners all over the place in the first five innings, scoring four runs with two outs, and adding in a few more runs on errors. BHS committed two errors that both led to Pioneer runs.
The Bruins will be right back after it on Tuesday evening – with game two of their series against Stillwater – another 6:00 PM first pitch, this time on the road.
We will carry that game from Stillwater on KWON – AM 1400 and FM 93.3.
« Back to Sports