Sports » Latest News
Sports
Posted: Mar 13, 2018 7:25 AMUpdated: Mar 13, 2018 8:25 AM
Bruins Drop First Game to Owasso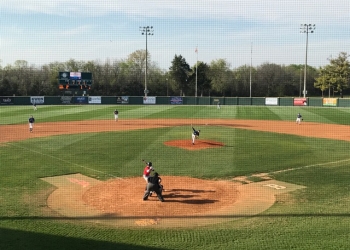 Bartlesville High baseball had another high scoring affair on Monday night against Owasso – but couldn't complete the comeback against the Rams.
Owasso topped BHS 12-7 at Bill Doenges Memorial Stadium. Owasso led 9-0 after 3 1/2 innings, which is when the Bartlesville offense would come alive.
The Bruins outscored Owasso 7-3 in the final four innings. BHS even had the tying run on deck in the bottom of the seventh, but couldn't get any more.
Bartlesville drops to 1-3 on the year, despite averaging 8.7 runs per game over their last three.
BHS will get right back on the horse against Owasso on Tuesday for another district game, this time on the road. 4:30 first pitch from Owasso against the Rams, as the Bruins try to split the series.
« Back to Sports