Sports » Latest News
Sports
Posted: May 11, 2017 7:25 AMUpdated: May 11, 2017 8:25 AM
Bruin Tennis Preps For State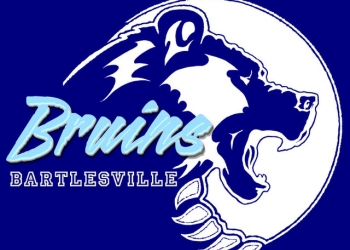 The Bartlesville High boy's tennis team is prepped and ready for its trip to Oklahoma City for the 6A State tournament that begins on Friday.
The Bruins qualified as a team after finishing third at regionals in Ponca City on Monday. Outside of Daniel Meszaros at number one singles, no Bruin players are likely to be seeded in the tourney. BHS started to play its best tennis of the year in early April after, perhaps, divine intervention made head coach Jeff Birk tinker with the lineup.
The state tournament runs through Saturdy at the OKC Tennis Center. Alex Le, Andrew Day, Turner Williams and Dax Butler are the other Bruins that have qualified for state.
Another note, this tournament will be the last for Jeff Birk, who is stepping down as head tennis coach after two successful seasons at BHS.
Birk began as a fill-in at tennis coach during the 2016 season before agreeing to coach an extra year in 2017.
« Back to Sports