Sports » Latest News
Sports
Posted: Apr 25, 2019 7:19 AMUpdated: Apr 25, 2019 8:19 AM
Bruin Baseball Senior Night on Thurs.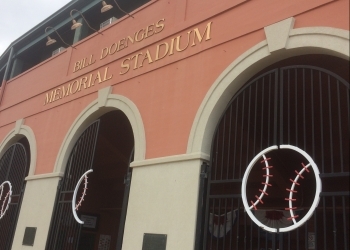 Bartlesville High baseball will say goodbye to its seniors on Thursday evening during senior night against Muskogee at Bill Doenges Memorial Stadium.
The Bruins were again thwarted by the rain in Shawnee on Wednesday afternoon, and now Bartlesville will play its final district game of the season on Friday morning at 11:00. This is the second time this game has been rescheduled.
BHS has not played since Monday in a 10-7 loss to Shawnee at home.
The contest against the Roughers on Thursday gives Bartlesville a chance to honor its seniors and tune up for Regionals, which will start next week.
BHS seniors include staples in the lineup such as Harald Borg, Calvin Johnson, Andrew Harden, Noah Yearout, Dakota Ward and others.
First pitch at 6:30 PM. This will be our final regular season broadcast of Bartlesville baseball on KWON – AM 1400 and FM 93.3. Pregame to begin around 6:20 PM.
« Back to Sports