Sports » Latest News
Sports
Posted: Sep 13, 2018 8:06 AMUpdated: Sep 13, 2018 9:24 AM
Blankenship Talks First Home Game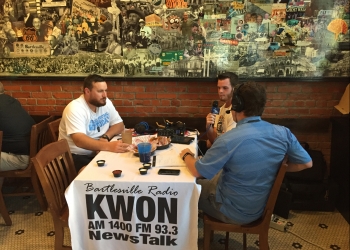 Bartlesville High has been working all week to solve Del City, as the Eagles come to Custer Stadium for the first home game this season for the Bruins.
BHS has been grinding since picking up the first loss of the Lee Blankenship era last week.
It was a seven-point defeat at Collinsville, one of the top teams in Class 5A. Wednesday night on his weekly radio show, Blankenship said he likes how his team has responded after its first loss of the season.
Tomorrow night will be the first game at Custer Stadium for Blankenship. The Bruin faithful have shown tremendously well on the road, and Blankenship says he's excited for his first experience of a home game.
Del City and Bartlesville will kick off at 7:00 Friday night – with the pregame show at 6:30 PM on KWON - AM 1400 and FM 93.3.
Don't forget we will have a Bruin Tailgate Party before the ballgame on the South side of Custer Stadium.
« Back to Sports