Sports » Latest News
Sports
Posted: May 07, 2019 7:14 AMUpdated: May 07, 2019 8:14 AM
BHS Tennis Still Rolling - Boys to State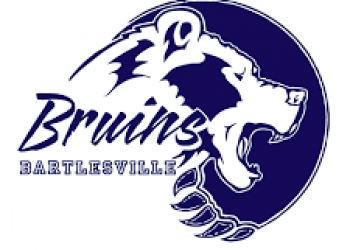 Both the girls and the boys netters for BHS have reached the promise land this season.
The Bartlesville High boy's tennis team is headed to state, as BHS finished third as team just behind Union and Deer Creek at Regionals on Monday.
Alex Le at No.1 singles headlined the performance, as he cruised to a first-place finish, which should help his seeding before state this weekend. Luke Epperson also finished fourth at No. 2 singles. The No. 1 doubles team of Dax Butler and Jesse James finished fourth. And the No. 2 doubles squad of Tony Morina and Cooper Williams are also headed to state after a second place finish.
The Lady Bruin netters are up next, as both the singles players for BHS, Maddie Shelley and Erikia Gruber, are in the state title hunt on Tuesday afternoon after winning their first two matches.
Both will play their final two matches in the winners bracket, the worst they can finish is fourth overall.
The 6A girl's state meet was postponed until Tuesday after rain from the weekend.
Also as we reported earlier this week, Bartlesville girl's tennis program will be crowned academic state champions on Tuesday in Oklahoma City.
« Back to Sports