Sports » Latest News
Sports
Posted: Jan 16, 2018 7:55 AMUpdated: Jan 16, 2018 8:57 AM
BHS at Owasso Makes for Interesting Matchups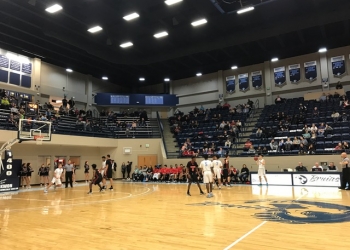 Despite having no school, Bartlesville High is still scheduled to travel to Owasso to take on two hot-Ram teams on Tuesday evening for a Frontier Valley Conference double-header.
BHS is coming off a split night at Union on Friday. This is the final tune up for both teams before more tournament play starts on Thursday.
For the Lady Bruins, the matchup against the Lady Rams will be the first real test of the season. It will be No. 2 vs. No. 3.
For the first time this year, BHS will take on a team ranked in the top 10 in 6A in the OSSAA Rankings. Bartlesville is still the No. 2 team in the state after Monday's update at OSSAARankings.com, but Owasso has shot up to No. 3 in 6A.
The Lady Rams are 9-2 – they have won eight games in a row after battling injuries earlier this season. Both teams are in the hunt for hosting a regional. Ladies will tip at 6:30. Owasso has two future NCAA Division-I players in Mya Bhinhar and Terryn Milton. Bartlesville head coach Krista Binam talks about her upperclassmen.
On the guy's side, BHS is looking to end a three-game losing streak. The Bruins had played tough with some of the best teams in the state over the last couple weeks, prior to getting blown out at Union.
Bartlesville is 4-7. Owasso is 8-3, ranked at No. 11 in the state and has won seven straight.
Girls tip at 6:30 with the boys to follow around 8:00. Both games can be heard on KWON - AM 1400 and FM 93.3. Pregame will begin just after 6:00 PM.
Fans inside the Owasso gym can listen to the game on our portable FM Transmitter on 91.1 FM.
« Back to Sports