Sports » Latest News
Sports
Posted: Mar 10, 2017 7:07 AMUpdated: Mar 10, 2017 8:10 AM
Bartlesville Tennis Leans on Veterans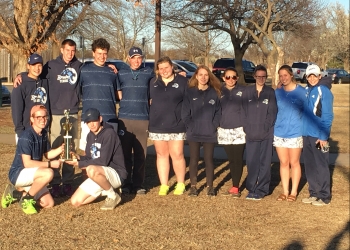 We continue our look at Spring sports - as it should be a fun year for the Bartlesville High tennis programs.
The Bartlesville tennis teams are on a bit of a break after their first couple tournaments in late Febuary and early March. The boy's and girl's tennis clubs each return a key senior from an outstanding 2016 campaign.
On the girl's side it is Erin Epperson – the defending 6A State Champion and Creighton signee. On the guy's side it is Daniel Meszaros, who was one of the best singles players on the Eastern half of state this past season. BHS head tennis coach Jeff Birk gives his outlook on the two outstanding seniors.
Epperson had her long winning streak snapped by a player from Jenks in a tournament in late Feburary. Epperson had won the 6A girl's state championship while going undefeated a year ago, that won't be the case in 2017.
The next Bartlesville High varsity tennis meet is on March 24 in the Muskogee invitational. The team's will take some time off for the upcoming Spring Break.
« Back to Sports