Sports » Latest News
Sports
Posted: Dec 06, 2017 7:06 AMUpdated: Dec 06, 2017 9:07 AM
Bartlesville High Splits at Bishop Kelley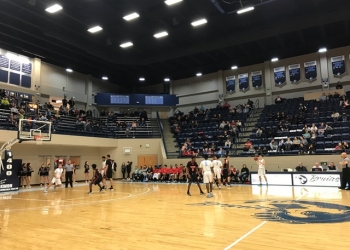 Bartlesville High split its girls and boys double-header at Bishop Kelley on Tuesday night in its season openers.
On the girl's side first, the Lady Bruins blew out Bishop Kelley 53-30. After leading by 15 points early, Bishop Kelley held Bartlesville to just four second-quarter points and cut the Lady Bruin lead to two at halftime - That is when BHS put it on. This three-pointer from Erin Shoemaker gave Bartlesville a big lead late in the third quarter.
The Bartlesville girls are 1-0, the Lady Bruins next take on Tulsa Hale in game one of the BA Classic at Broken Arrow at 10:00 AM on Thursday.
On the guy's side the Bruins ran into a buzz saw. Bishop Kelley was hot from the field and after taking a first-quarter lead, the Comets never looked back. Bartlesville fell to Bishop Kelley 79-62. Jaylin Oliver was a bright spot offensively for BHS, he scored 23 points, including this bucket that had the Bishop Kelley lead cut to seven in the third quarter.
Bartlesville would get no closer than seven in the second half. The Bruins fall to 0-1. They will take on Westmoore at 11:30 AM on Thursday morning in the BA Classic.
We will air both the Bartlesville High basketball games from Broken Arrow on Thursay morning on Sports Talk 1500 AM and 99.1 FM – KPGM.
Broken Arrow Tournament Brackets
« Back to Sports