Sports » Latest News
Bruins
Posted: May 02, 2019 8:27 PMUpdated: May 02, 2019 9:29 PM
Bartlesville Beats Southmoore After Dropping Regional Opener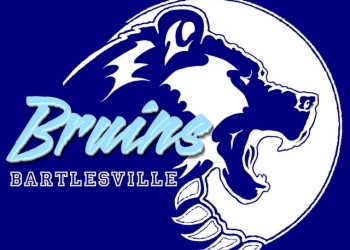 Bartlesville High baseball saw mixed results on the first day of the Jenks regional on Thursday. The Bruins drop the opener to the Trojans 3-0. However, the Bruins rebounded nicely with 7-5 victory over Southmoore to stay alive in the regional.
In game two, the Bruins stormed out to a 6-0 lead and they were able to hold on down the stretch to knock off the Sabercats. Jakob Hall started things off for the Bruins with a two-RBI double to build the Bartlesville momentum early on.
Hall finished with a team-high three hits on the day as well three runs batted in. The first inning rally continued with run scoring hits from Andrew Harden and Bradee Rigdon. Then in the second frame Noah Yearout would double home a run and then later score.
It was a group effort on the mound for Bartlesville. Bryce Weathers got the start and worked one shutout inning. Kurt Kauk would then log the next four innings giving up four runs in the process. Two more BHS relievers would close the door on the victory to send Bartlesville to day two of regional action.
The Bruins will play Bixby at 4 p.m. Radio coverage can be on Sportstalk 1500 AM—99.1 FM KPGM. If the Bruins win they would play at 6:30 p.m. on KWON AM 1400—FM 93.3.
« Back to Sports