Sports » Latest News
Sports
Posted: May 10, 2019 3:16 PMUpdated: May 10, 2019 4:16 PM
Area Teams Compete in State Tennis Tournament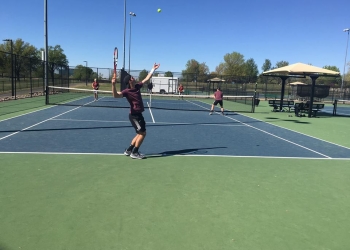 In 6A state tennis from the Oklahoma City Tennis Center…
In No. 1 singles Bartlesville's Alex Le won in straight sets in his opening match over Will Jardan from Shawnee, 6-4, 6-4. Le will now face Brogan McLaughlin in the quarterfinals later today.
In No. 1 doubles Jessie James and Dax Butler were defeated by a duo from Edmond Memorial 6-1, 6-0 in their opening match. They will now battle through the consolation bracket with fifth place being their best possibility.
In No. 2 doubles, Tony Morina and Cooper Williams lost 6-0, 6-2 to a pair from Owasso. They will battle through the consolation bracket as well.
In 4A No. 1 Doubles, Nowata's Dillon Barnes and Gadge Littlefield dropped their opening match to Ada before rebounding to be a duo from Skiatook 6-1, 6-0. They face a pair from Paul's Valley next.
More results to come.
« Back to Sports