News
Osage
Posted: Jul 14, 2014 9:43 AMUpdated: Jul 14, 2014 9:45 AM
Osage Commissioners Receive Cavalcade Update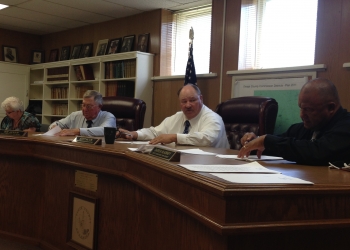 Colton Scott
The Osage County commissioners met on Monday morning for their regularly scheduled business meeting.
The meeting started with a Cavalcade update from the leader of the Cavalcade amateur rodeo event.
More than 25,000 people are expected to attend this week's event, and the fairgrounds are already busy with men and women from all around Oklahoma and surrounding states coming to participate.
The commissioners then opened and discussed bids for the new tourism social media program but then tabled the item until next week's meeting.
They also approved and signed contracts for the nutrition program for 2014-2015 including meal delivery contracts, site agreements, and a memorandum of understanding with Hulah Lake Senior Citizens Center to act as a distribution agent for frozen and shelf stable meals.
An agreement with the town of Fairfax to remove a building and trees off of city owned lots was also approved.
The commissioners will meet again next Monday for their next regularly scheduled meeting.
« Back to News