News
Osage County
Posted: Jul 07, 2014 9:55 AMUpdated: Jul 07, 2014 9:55 AM
Osage Commissioners Approve Juvenile Detention Center Agreement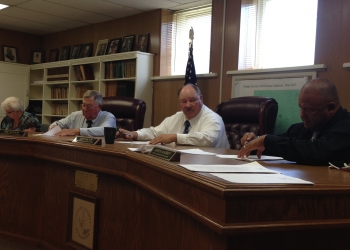 Colton Scott
The Osage County commissioners met on Monday for their first regularly scheduled business meeting of July 2014.
Harold Huffman started off the meeting by presenting the commissioners with a contract they signed agreeing to participate in acco-sig (property/liability) for 2014-2015 for the Osage County Juvenile Detention Center.
Huffman also presented them with a resolution to execute the agreement establishing the association of county commissioners of Oklahoma self-insurance group for the detention center.
Then, Candy Thomas presented a quarterly report regarding the USDA rural development RBEG grant for improvements to the Pawhuska Business Development Center. The commissioners approved the report.
The commissioners also approved service agreements for janitorial service for the health department through Gilkey's Cleaning and lawn service for the health department through Cole's Lawn Service.
To wrap up the meeting, they approved a detention services agreement for Muskogee youth services at the rate of $23.27 per day per child for the fiscal year 2014-2015.
The Osage commissioners will meet again next week.
« Back to News