News
Local Events
Posted: Jul 04, 2014 9:58 PMUpdated: Jul 05, 2014 7:46 AM
Record Crowd Attends Freedom Fest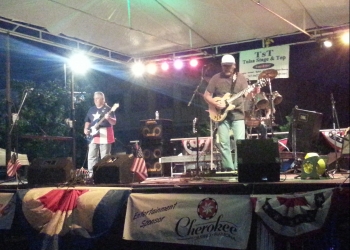 Charlie Taraboletti
Organizers say Friday night's Bartlesville Freedom Fest celebration had its biggest crowd ever. People lined show-central along second street for music and entertainment on two stages before the fireworks. Karen Wilson talked about some kids raising funds for Freedom Fest.
The Retro-Rockers provided music from 8 until 9:45. A presentation of the colors and flag ceremony from American Legion Post 105 highlited the patiotic section of the evening. KWON-KYFM-KRIG-KPGM radio station owner presented Emcee Charlie Taraboletti a gift from Freedom Fest for his years of service to the event.
Freedom Fest is a presentation of the Downtown Kiwanis Club and has the support of numerous sponsors and contributors.
« Back to News