News
Health Care
Posted: Jun 23, 2014 6:39 AMUpdated: Jun 23, 2014 6:39 AM
Jane Phillips Chief Stire to Retire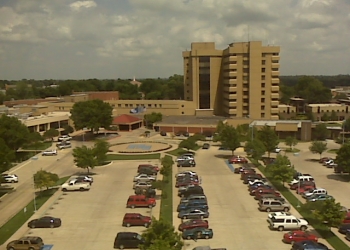 Charlie Taraboletti
After more than two decades at Jane Phillips Medical Center, President and Chief Operating Officer David R. Stire is stepping down from his role at the local hospital. Current plans call for Stire's tenure to end effective December 31, 2014. Stire says he has thoroughly enjoyed his 22 years at Jane Phillips Medical Center and he has no regrets about moving to Bartlesville from Peoria, IL in 1992.
While at Jane Phillips Medical Center, Stire has worked as the Director of Radiology, Vice-President of Clinical Services, Chief Financial Officer, Executive Vice President and Chief Operating Officer.. He has been in his current role for the past 12 years, one which the average executive only remains in for five years.
One of his most important roles at the hospital will be that of assisting with the logistics surrounding the selection of a new Chief Operating Officer. In the next few months, Stire will work with St. John Health System (SJHS) leadership, board members, physicians, and local community leaders to find a successor. Plans call for enlisting support of a national search firm as well as soliciting internal and external applications locally.
Stire says the goal is to select a person in time to orient them to the various aspects of the job before his departure at year's end, but the hopsital will take as much time as is necessary to ensure a smooth transition and continued success.
During his time as the top executive at JPMC, the hospital logged many notable achievements. A brief list includes a brand new cardiac inpatient unit on the 10th floor of the tower building in 2007, new diagnostic imaging and sleep center, also in 2007, a new Acute Care for the Elderly unit on 5 Tower, remodeled the Cath Lab patient holding area in 2012, construction of a new $4 million BlueStem Cardiology Building in 2012, and acquisition of the surgery center this past year.
The Bartlesville community has also benefited from Stire's commitment to service as he chaired two phases of the City's and Chamber's Strategic Planning Steering Committee. He also served as both treasurer and chairman of the Bartlesville Development Corporation, chairman of the Bartlesville Regional Chamber of Commerce board of directors, and chairman of the board for K-Life. In 2011, he was honored with the Chamber of Commerce's Frank Phillips Award for his lay work in economic development.
« Back to News