News
State of Oklahoma
Posted: Jun 18, 2014 5:53 AMUpdated: Jun 18, 2014 5:53 AM
Voting Officials Issue Reminders of Important Dates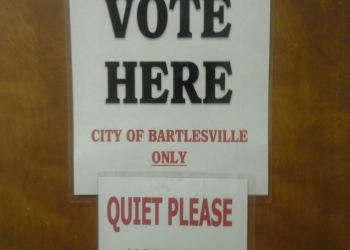 Charlie Taraboletti
Oklahoma's statewide Primary Election is on Tuesday but today is the deadline to request an absentee ballot and early voting runs Thursday through Saturday. Oklahoma State Election Board Secretary Paul Ziriax said voters should be aware of several upcoming election-related dates and deadlines.
You need to make your requst for an absentee ballot by 5 o'clock this afternoon. Early voting times are Thursday and Friday 8 to 6 and Saturday 9 to 2 at your county election board office. That's a change from past procedures. There will be no early voting on Monday. If you plan to cast an absentee ballot, remember that it must be in the hands of the county eletion board by 7 o'clock Tuesday night in order to be counted.
The polls will be open 7 to 7 on Tuesday. Listen as we report the vote after the polls close. Election coverage will be provided thanks to Phillips 66.
« Back to News