News
Local Fires
Posted: Feb 14, 2014 10:04 AMUpdated: Feb 14, 2014 10:04 AM
Numerous Agencies Respond to Thursday fire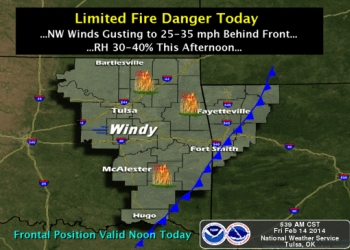 Washington County Fire Department and 9 other departments assisted Ramona FD with a large wildfire west of Ramona Thursday afternoon. Washington County Emergency Manager Kary Cox estimates that mre than 800 acres burned.
Cox congratulates all of the agencies that helped extinguish the blaxe. Cox says members of the Rolling Hills, Collinsville Rural, NW Rogers, Owens, Ochelata, Oglesby, Bartlesville, Barnsdall Rural, and Bureau of Indian Affairs departments were all involved along with WCFD and Ramona.
It took three hours to extinguish the fire. The call for help came in about 2:30 Thursday afternoon on the blaze near Little Ranch, near Ramona.
The US Drought Monitor lists our area as abnormally dry for this time of year and according to NOAA's decision support page we are facing an elevated fire risk through at least Tuesday of next week.
« Back to News