News
Football
Posted: Feb 05, 2014 9:29 AMUpdated: Feb 05, 2014 9:39 AM
Area Players Sign Football Letters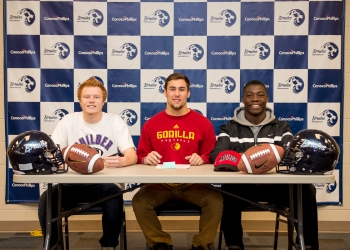 Three Bartlesville Bruins singed their intentions Wednesday at the Bruins Field House. Dayln Pollard, Slade Nordic, and Jordan Dickson will all move on to play college football. Pollard moves on to play for Southwestern College in Winfield, KS while Nordic becomes a member of the Pittsburgh State Gorillas and Dickson joins the Central Missouri Mules.
Skyler Wood from Nowata also signed on Wednesday as he committed to play for the University of Central Oklahoma Bronchos in Edmond.
Barnsdall Panther Hunter Hansen signed a letter of intent to play for Langston University.
Jared Fink from Dewey is expected to sign with Oklahoma Baptist Univerity.
Photo courtesy of David Hunt www.davidhuntphotography.com
« Back to News