News
United Way
Posted: Jan 30, 2014 6:15 AMUpdated: Jan 30, 2014 6:15 AM
City Ride Receives Funding Check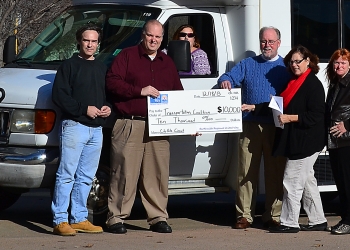 The Bartlesville Regional United Way has awarded $10,000 to the Washington County Transportation Coalition for the operation of the CityRide Circuit program. According to United Way Executive Director Jody Burch, the Bartlesville Regional United Way has been involved with the CityRide circuit since the very beginning. He says the community believes in the benefit of low-cost transportation to those in need in our area. These funds will allow the bus route to continue to operate while members of the Washington County Transportation Coalition pursue sustainability.
The cost is 25 cents a ride, and children 12 and under ride free. The bus circuit operates an hourly loop that links the east and west sides of town, Monday through Friday, mornings 7 to 11 and 2 to 6 in the afternoon excluding federal holidays. The vehicles used are ADA compliant and have a bike rack so community members can ride to the bus stop, board the bus and have their bicycle with them when they reach their destination.
CityRide Circuit gave almost 13,000 rides in 2013, allowing people to reach crucial points such as social services agencies, Walmart and health care providers. Its 12 stops are primarily located along Frank Phillips Blvd. and Adams St., including: Mary Martha Outreach, Jane Phillips Medical Center, DHS/Washington County Health Department, Walmart, Bartlesville Public Library and Grand Lake Mental Health.
« Back to News