News
State of Oklahoma
Posted: Jan 22, 2014 9:37 AMUpdated: Jan 22, 2014 9:44 AM
REAP Grant Benefits Lenapah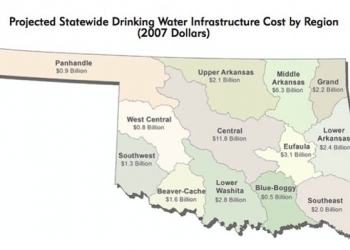 A Nowata County town received a state grant Tuesday to renovate some of its aging wastewater collection system. The Oklahoma Water Resources Board awarded a $99,675 Rural Economic Action Plan grant to Lenapah.
Lenapah's wastewater collection system serves a population of nearly 300. Consulting Engineer, H. Dwayne Henderson told the Water Board the collection system is approximately 40 years old and suffers from inflow and infiltration problems.
Smoke tests of the sewer lines indicated that several manholes are the sources of inflow and infiltration that are causing excessive flows to the town's two primary and two secondary sewage treatment lagoons. Effluent from the lagoon cells is discharging into a tributary of the Verdigris River.
The grant will pay for correcting the problems. Five of the town's 97 manholes will be replaced and all of the others will be lined with a cement-like coating. In addition, 20 manhole frames will be raised, 45 manhole lids will be replaced and so will five service taps.
Chief of the Water Board's Financial Assistance Division, Joe Freeman calculated that the REAP grant will save Lenapah residents more than $179,000 in principal and interest charges, by not having to borrow those funds. Strong thanked State Senator John Ford and Representative Steve Martin for their support of the REAP program.
« Back to News