News
Health Care
Posted: Jan 17, 2014 10:23 AMUpdated: Jan 17, 2014 10:25 AM
JPMC Reports Continued Cardiac Success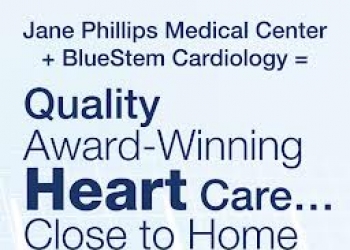 Jane Phillips Medical Center and BlueStem Cardiology concluded 2013 with another stellar performance in quickly treating heart attack patients. During the last calendar year, 93 percent (31 of 33 patients) were treated in less than the national target of 90 minutes. The average time for completing emergency "balloon" surgery at the hospital was 66 minutes.
The guidelines developed by the American College of Cardiology and the American Heart Association outline the treatment of heart attack patients. The "door-to-balloon" time or "D2B" begins the moment the patient arrives at the facility and concludes with the opening of the clogged artery. Manager of the Jane Phillips Cardiac Cath Lab, Judy Green says because the hospital is close to home we are able to activate the team and be on site when and where patients most desperately need us. Green said the obvious goal is to achieve a door-to-balloon time average of 100-percent, but doing so can be quite difficult.
BlueStem Cardiology and JPMC enrolled in the D2B program when it was launched in 2008 and for the past 12 years have been part of the National Cath Lab Registry Data. The results have been excellent. Cardiologist, Dr. Anderson Mehrle of Bluestem Cardiology says the hospital staff's ability to exceed the national average is due to the dedicated associates. He says Bartlesville also could not achieve this without the support of our local and regional EMS, the medical staff, and our entire emergency department. It is a true team effort in caring for our patients.
A somewhat surprising result has been noted in national studies - smaller hospitals actually have as good or better outcomes as larger hospitals. Dr. Mehrle said that is due, primarily, to smaller, well-run hospitals like JPMC taking less time to get patients through the emergency room and into the Cath Lab.

« Back to News