News
Washington County
Posted: Jul 12, 2019 4:27 PMUpdated: Jul 15, 2019 7:37 AM
One Suspect Turns Himself in Late Saturday Night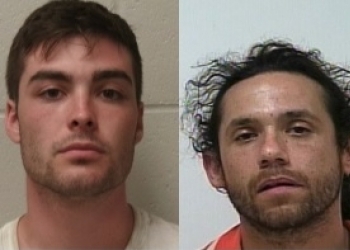 Max Gross & Garrett Giles
One suspect turned himself in to Bartlesville Police late Saturday evening for his alleged involvement in a homicide.
Dalton Taylor was booked into the Washington County Detention Facility for his alleged involvement in Friday's homicide in the 700th Block of SE 8th Street that left 26-year-old Daniel Glenn Tahoe Speck of Bartlesville dead in an alley way.
Police are still looking for another suspect. They are searching for Stoney Bowlin (pictured to the far right). Officials say he should be considered armed, possibly with a shotgun.
Bartlesville Detectives located the white 2008 Chevrolet pickup they believe was the vehicle used by two suspects to flee a homicide scene Friday.
Detectives served a search warrant late Friday night at a home located at 700 SE Sooner Park Drive. The truck was located hidden inside the garage.
This is the same home that was also the scene of a deadly shooting back in May 2019. Probable cause was found in the matter on Thursday and we have a link to that story here.
Police responded to the scene around 8 a.m. on Friday morning. Speck was found lying in an alley way. He was taken to the Jane Phillips Medical Center where he later died. Bartlesville Police Chief Tracy Roles says the time and location of the shooting are peculiar.
Police are trying to determine why Speck and the two suspects met in the alley way. Speck's cell phone was retrieved at the scene. They have also impounded the victim's car and are getting a search warrant to look for more evidence.
Bartlesville Police Captain Jay Hastings also commented on the matter.
Captain Hastings reported that the victim was shot to the lower abdomen. He said they were able to retrieve a single shotgun shell.
If you have any information, you can call Bartlesville Police at 918.338.4001. You can also leave an anonymous tip with CrimeStoppers if you call 918.336.CLUE.
« Back to News