News
Sports
Posted: May 18, 2019 6:06 AMUpdated: May 18, 2019 6:06 AM
Nowata Graduates Class of 2019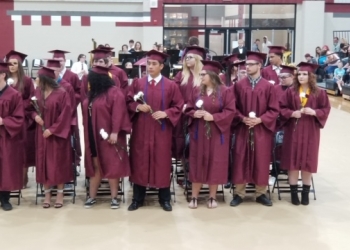 Evan Fahrbach
Just over 40 graduates of Nowata High School walked across the stage to make their graduation official on Friday evening.
Nowata High School Principal Bron Williams, Superintendent Chris Tanner, Valedictorian Kelsey Dobson and Salutatorian Alex Covarrubias spoke during the event, which lasted about 40-minutes. Covarrubias spoke about his days in Nowata as ones he would not soon forget.
The Nowata Choir sang both the "National Anthem" and "See You Again". Meanwhile the Nowata band performed "Highland Legend".
We will have a replay of the Nowata graduation on Saturday evening, just after 6:00 PM on KWON – AM 1400 and FM 93.3. That replay is a service of Bartnet IP and Regent Bank.
« Back to News