News
Sports
Posted: Dec 07, 2018 9:30 AMUpdated: Dec 07, 2018 9:33 AM
Bruins and Lady Bruins in BA Semis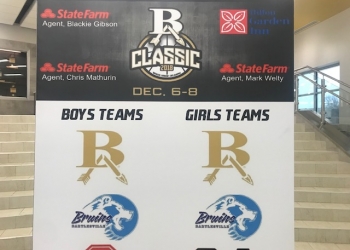 Garrett Giles
Bartlesville High basketball picked up a wins for the girls and boys on Thursday during round one of the Broken Arrow Classic.
Both BHS teams will now play in the semifinals of the tournament on Friday afternoon.
The Lady Bruins trounced Nathan Hale from the very beginning, as Bartlesville led 42-7 at halftime and ended up with a 59-15 win.
Thirteen different Lady Bruins scored in the blowout. Chloe Martin was the only players in double-figures, she had 13-points.
Bartlesville will now take on Edmond North on the girl's side on Friday. A 5:30 scheduled tip off from Broken Arrow. We will have that game on KWON – AM 1400 and FM 93.3.
The Bruin boys had a tougher time with East Central. Bartlesville had to fight its way back multiple times in an eventual 60-54 win in double-overtime. The Bruins trailed by eight late in the third quarter, and were down by six with less than three minutes remaining in overtime.
Tayo Dina and Shane Simpson willed Bartlesville to the win. Dina hit a three-pointer early in the second overtime to give the Bruins a lead they would not give up.
Dina finished with 25 points. Simpson had 14. He made a runner that provided the Bruins with a five-point lead later on in the quarter.
Bartlesville guys now face Putnam City in the semis of the tournament on Friday – a 4:00 PM tip on Sports Talk 99.1 FM and 1500 AM – KPGM. Pregame to start about 3:30.
Both games can be heard online at BartlesvilleRadio.com and on the Bartlesville Radio App.
« Back to News