News
City of Bartlesville
Posted: Nov 26, 2018 1:25 PMUpdated: Nov 26, 2018 1:51 PM
Bartlesville Wreaths and More Starts Tuesday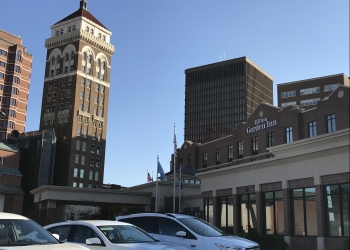 Garrett Giles
The 5th annual Bartlesville Holiday Wreaths and More will have over 40 non-profits on hand to work the upcoming community fundraiser. Each organization enters a wreath to be sold by silent auction and has a table to fundraise and promote their organization. Some ways they will fundraise and promote their organization include: crafts and holiday items, raffles, and booths to talk to the public.
Participating organizations receive 100-percent of the proceeds from the sale of wreaths and party activites.
Kiwanis Club of Bartlesville member Karen Wilson is a co-chair to the event and says the wreaths will be checked in on Tuesday, Nov. 27 at the Hilton Garden Inn.
The Finale Party will last from 5:30 to 8 p.m. in the Hilton Garden Inn ballroom on Thursday, Nov. 29. Tickets for the Finale Party cost $10.
Those interested in attending can purchase tickets by going to bartlesvillechristmas.org or from participating organizations. They can also be purchased at Arvest Eastside branch, Truity Credit Union or at the Hilton Garden Inn.
« Back to News