News
City of Bartlesville
Posted: Jul 10, 2018 2:58 PMUpdated: Jul 10, 2018 3:53 PM
Gentges and Dorsey Appointed to Transportation Committee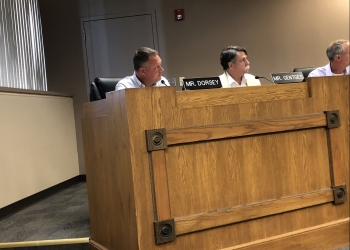 Max Gross
City Councilman Trevor Dorsey and Alan Gentges were appointed to Bartlesville's newly-formed transportation committee at Monday night's meeting of the Bartlesville City Council.
Gentges and Dorsey will serve two-year terms on the committee. The other three spots on the committee will be filled by members of the community at-large. City staff is still accepting applications for these positions.
Mayor Dale Copeland gives an overview of the committee's responsibilities.
Other responsibilities will include identifying best practices to improve efficiency for all modes of transportation.
The committee was formed after the council approved an ordinance at its July 2 meeting.
Citizens interested in being appointed to the committee are encouraged to complete an application. Applications are available on the City of Bartlesville's website, www.cityofbartlesville.org, or in the City Manager's Office, located on the second floor of City Hall, 401 S. Johnstone Ave.
« Back to News