News
City of Bartlesville
Posted: Jul 09, 2018 7:56 PMUpdated: Jul 09, 2018 8:02 PM
Bailey Replaces Gordon as City Manager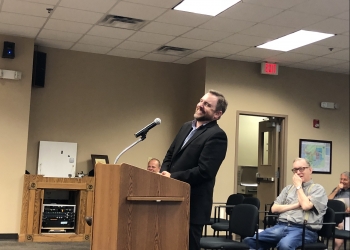 Max Gross
A changing of the guard has now been made official as Mike Bailey was approved to be Bartlesville's city manager at Monday night's meeting. Bailey had been acting as City manager since Ed Gordon took a leave of absence due to medical complications in August 2017.
Gordon is confident that Bailey will continue to do good work.
Gordon's retirement is effective July 31.
Bailey's salary will be $145,000 per year for three years. Other perks include a $400 per month vehicle allowance to cover any business related transportation expenses. Bailey will also be issued a cell phone and tablet by the city.
Mayor Dale Copeland says that Bailey has already accomplished quite a bit.
Bailey's contract will begin on August 1.
« Back to News