News
News
Posted: Jul 09, 2018 9:23 AMUpdated: Jul 09, 2018 9:23 AM
Washington County Commissioners Approve Items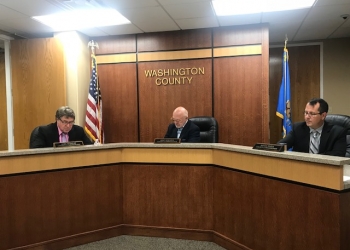 Evan Fahrbach
The Washington County Board of Commissioners met for their regular meeting on Monday morning.
The Commissioners approved the ongoing contract for fiscal year 2018-2019 of Pitney Bowes and the contract labor agreements between The Washington County Health Department and Gilkey's Cleaning Service and Cole Lawn Service.
The Commissioners also approved a salary claim and benefits for the Washington County State Election Board Secretary for June. During the commissioners report, Mike Dunlap said he plans on getting a third mower to help keep up with mowing around the county. Mitch Antle and Mike Bouvier also went over different road projects they are working on.
The Washington County Board of Commissioners meets every Monday at 9:30 in the Commissioner's Meeting Room in downtown Bartlesville.
« Back to News