News
Washington County
Posted: Jun 14, 2018 3:20 PMUpdated: Jun 14, 2018 4:17 PM
Copan Man Charged With Public Intoxication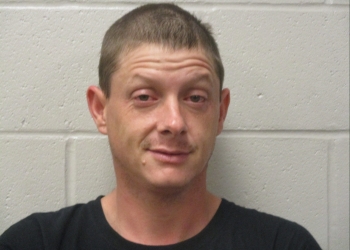 Max Gross
A Copan man was arrested early Thursday morning after walking into a residence that was not his. Joshua Shadwick stood before a judge at the Washington County Courthouse on Thursday facing a charge of public intoxication.
According to an affidavit, a sheriff's deputy was called to a residence in Wann after a report of Shadwick entering a residence that was not his. The reporting party said they were not familiar with Shadwick in any way.
The deputy reported to the area and saw Shadwick walking down the street wearing boxer shorts and holding a pair of blue jeans over his arm. Shadwick told the deputy he had been kicked out of a residence in Bartlesville and was heading back to his home. He then changed his story to say he was going to pick up his girlfriend in Caney, Kansas.
The deputy noted that Shadwick had trouble focusing during the conversation and would start to look around. Shadwick claimed that two other people were there with him. The deputy did not see anyone else near the area.
Due to Shadwick's erratic pattern of behavior the deputy believed he was under the influence of methamphetamine. Shadwick admitted he had consumed approximately a quarter of a gram of methamphetamine over the last three days.
Bond was set at $500. Shadwick entered a guilty plea. His next scheduled court appearance is set for July 6.
« Back to News