News
Local Events
Posted: May 17, 2018 10:49 AMUpdated: May 17, 2018 10:49 AM
Questions Sought for State House Forum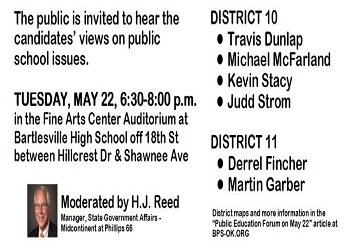 Charlie Taraboletti
You are invited to a public forum with the candidates for House Districts 10 and 11 on Tuesday night from 6:30 to 8:00 in the Bartlesville High School Fine Arts Center Auditorium off 18th St. between Hillcrest Dr. and Shawnee Ave.
All of the candidates for House Districts 10 and 11, which encompass different portions of Bartlesville, have been invited to attend to share their views on a variety of issues.
Manager for State Government Affairs for Midcontinent at Phillips 66, H. J. Reed will serve as moderator.
You are invited to submit your questions for the candidates.
We have a link
for you submit your question. Not every question submitted will be asked and similar questions may be combined into a single topic.
KWON will broadcast the forum sponsored by Phillips 66.
« Back to News