News
Sports
Posted: May 16, 2018 7:53 AMUpdated: May 16, 2018 7:53 AM
Eagle Baseball Loses 1st NAIA Tourney Game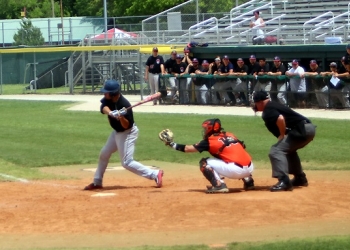 Evan Fahrbach
Oklahoma Wesleyan did not fare as well in regional play on Tuesay - as OKWU lost its first game in the NAIA National Tournament.
The Eagles lost a heartbreaker in the Upland, Indiana regional semifinal. OKWU fell to Freed-Hardeman, Tennessee 3-2 in 14-innings. The Eagles had 12 hits over the 14-frames, but could only scratch across single runs in the eighth and 13th innings. Each time Wesleyan scored, Freed-Hardeman would answer in the bottom half. The Lions walked off with a victory in the bottom of the 14th.
Eagle starter Kyle Fimbrez and reliever Lizandro Cruz were both brilliant on the mound, but couldn't ever get the big outs in the eighth or 13th that would have won it. They combined to give up 3 runs in 13 2/3rds innings. OKWU out-hit Freed-Hardeman 12-10.
The loss for Wesleyan means it will now have to win three games in a row to capture a regional championship and a berth into the NAIA World Series. It will start on Wednesday afternoon, as OKWU faces the winner between Taylor, Indiana and Cumberland, Tennessee around 2:30 PM.
If Wesleyan can win that game, it would then have to beat Freed-Hardeman twice to win the regional.
« Back to News