News
Nowata Basketball
Posted: Mar 13, 2018 4:24 PMUpdated: Mar 13, 2018 4:24 PM
Nowata Basketball Reached New Heights in 2017-2018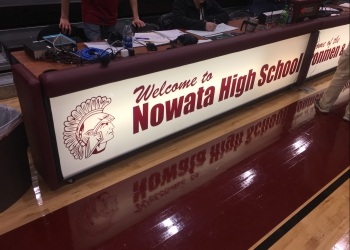 Max Gross
The Nowata Ironmen put together one of the best seasons in program history in the 2017-2018 campign.
The Ironmen closed the season with a 21-5 record. Nowata earned the right to host a regional for the first time in its new gym. The Ironmen were able to gut out victories over Wyandotte and Ketchum to win the regional title. However, Nowata saw its magical run come to an end after back-to-back losses in the area tournament leaving them just on the doorstep of a state tournament appearance.
Nowata hit its stride late in the first semester as they started an incredible stretch that saw them victorious in 17 of 18 ballgames. Ironmen head coach Gary Hollingshead saw the potential in this year's team all along.
Senior Zen Callahan led the team in scoring at over 20 points per game. Callahan finished his career as the school's all-time leader scoring. Along with Callahan, Nowata will lose seven other seniors from this year's roster.
Freshman Gabe Velasco and junior T.J. Donaldson will be the only returners who saw anything near significant minutes last season.
Congratulations to Nowata on a phenomenal season.
« Back to News