News
Sports
Posted: Feb 22, 2018 7:09 AMUpdated: Feb 23, 2018 7:20 AM
Lady Bruin Regional Postponed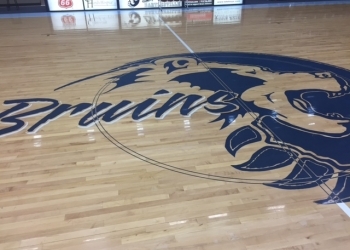 Evan Fahrbach
Ice and sleet across the state has forced the OSSAA to reschedule 6A Regional play for Thursday.
From the OSSAA's website:
"All games scheduled for Thursday, February 22nd will be played on Friday, February 23rd. Game times on Friday are 6:30 p.m. and 8:00 p.m. All games originally scheduled for Friday, February 23rd will be played on Saturday, February 24th. Game times on Saturday are 6:30 p.m. and 8:00 p.m. All games originally scheduled for Saturday, February 24th will be played on Monday, February 26th. Game times on Monday are 6:30 p.m. and 8:00 p.m. for sites with two games; 7:00 p.m. for sites with only one game."
That would mean the Lady Bruins will play Muskogee at 8:00 PM on Friday in the first round, with the Bruin boys at Broken Arrow against Stillwater at 6:30 PM on Saturday.
The Bartlesville girl's Regional title would be played at 7:00 PM on Monday at Bruin Fieldhouse. If the Bruin boys could win on Saturday against Stillwater, their title game in Broken Arrow would be at the same time - 7:00 PM on Monday.
---
23 straight wins has led to this, the second season for Lady Bruin basketball. Although, now it will start a day later.
At Bartlesville High, the Lady Bruins will host their 6A Regional starting on Friday at Bruin Fieldhouse. BHS will take on a Muskogee team it as already beaten twice this in the first round.
The Lady Rougher have only one victory on the year. Bartlesville beat Muskogee 60-23 on Dec. 12, meanwhile the Lady Bruins blew them out again on Feb. 5, 66-42. This game is an elimination contest, so the loser is done for the year. Bartlesville head girl's coach Krista Binam says her club is not overlooking Muskogee.
Tip off between the Lady Bruins and Lady Roughers at 8:00 PM. Pregame at 7:30 on KWON – AM 1400 and FM 93.3.
We will also have the play-by-play available online at BartlesvilleRadio.com and streaming to your device on the Bartlesville Radio App.
Full preview with Krista Binam
Edmond Deer Creek and Ponca City will play the game before Bartlesville at 6:30 PM. Winners will meet in the Regional Title game at 7:00 PM on Monday.
« Back to News