News
Local News
Posted: Feb 14, 2018 9:37 AMUpdated: Feb 14, 2018 11:04 AM
Lawrence Wins Kiss or Miss Prizes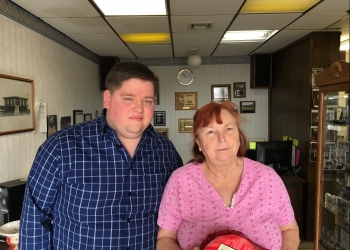 Charlie Taraboletti
KWON-KYFM-KRIG-KPGM congratulates this years "Kiss or Miss" Grand Prize Sweetheart Winner, Jim and Linda Lawrence of Bartlesville.
The Kiss or Miss Contest kicked off on February 7th giving away daily prizes of either two tickets to Broadway in Bartlesville Kinky Boots or the Tulsa Oilers. Daily winners were entered into the
grand prize sweetheart drawing
.
As lucky winner, Lawrence received a one night stay at The Million Dollar Inn in Pawhuska, a half dozen roses from Jan L's Flowers in Coffeyville, Gusher gift card from Precision Spinal, box of chocolates from Steven Russell—Berkshire Hathaway, bouquet of flowers from Flowerland, $25.00 gift certificate from De's Spirits & Wine in Dewey, 2 hour cleaning with 2 technicians from Clean Results, and an Ashley Side Table from Aaron's of Bartlesville.
Congratulations to all the Kiss or Miss winners!
« Back to News