News
Dewey Basketball
Posted: Feb 12, 2018 10:11 PMUpdated: Feb 12, 2018 10:11 PM
Dewey Hosts Caney in Regular Season Finale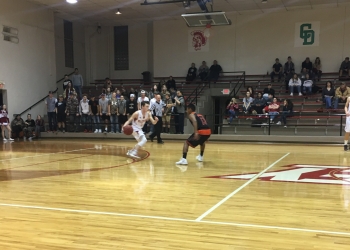 Max Gross
The Dewey Bulldoggers have their final regular season tune up against one of the top teams in Kansas this evening.
The Doggers host Caney, Kansas in their final chance to prep for the playoffs. Back on December 15 Dewey topped the Bullpups 74-to-64 in of the more exciting ballgames of the year. Senior Blayz Rippy had 25 points in the first meeting of the season.
The Doggers are sitting in the driver's seat with the postseason coming up this weekend. Dewey accomplished a preseason goal of winning the conference title with last Friday's win over Caney Valley, Oklahoma. However, head coach Lance Knight knows his team still has room for improvement.
The Bulldoggers have a matchup with Cascia Hall slated for Friday in the district playoffs.
Dewey will try for regular season win No. 17 on Tuesday. The Doggers and Bullpups can be heard on KRIG 104.9 at 8 o'clock.
« Back to News