News
Sports
Posted: Nov 13, 2017 8:01 AMUpdated: Nov 13, 2017 8:06 AM
Search for Bartlesville High Football Coach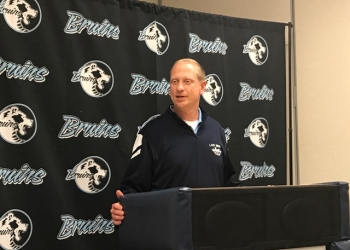 Evan Fahrbach
High school football season is mostly over across Northeast Oklahoma. All the clubs in Osage, Washington and Nowata Counties are now done with their seasons after Barnsdall and Caney Valley lost their first-round playoff games this past weekend.
The offseason will bring changes to many programs, with Bartlesville High included in that group.
The Bruins are searching for a full-time head coach, a process that started in early November, after Bartlesville's final game.
Interim head coach Kyle Ppool will be in the mix, along with a slew of outside candidates. BHS would like to have a new football coach in town by the start of next semester. Here is Bartlesville High Athletic and Activities Director Ryan Huff.
The next head coach will be Bartlesville's third in the past 11 years. Ron Smith was the coach from 2006 through 2010. John McKee had the position until week No. 2 of this past season.
You can listen to the enitre converstion with Huff HERE.
« Back to News