News
Local News
Posted: Nov 11, 2017 3:30 AMUpdated: Nov 11, 2017 3:30 AM
Berry to Receive Investigator Award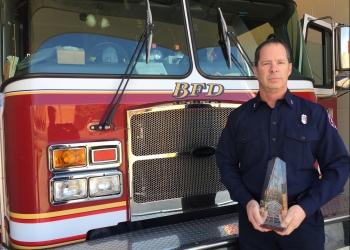 Charlie Taraboletti
Bartlesville Fire Department Investigator Capt. Jerry Berry has been selected to receive one of the most prestigious awards in his industry — the International Association of Arson Investigators' Investigator of the Year Award for the Oklahoma chapter.
Only 70 of the awards, one for each chapter, are given each year internationally. Berry is one of just two fire investigators to ever win the award for Bartlesville.
Fire Chief John Banks says when he heard about the award Jerry was receiving he immediately thought they could not have chosen a better fire investigator to receive the honor. Banks says the City of Bartlesville is very lucky to have such a person who is willing to spend the time and energy it takes to determine whether a fire is arson or accidental and work diligently to bring the arsonist to justice.
According to the IAAI website, the award is given to fire investigators who have shown outstanding achievement through the use of professional expertise in both the criminal and civil fields of arson control.
« Back to News