News
News
Posted: Oct 18, 2017 10:01 AMUpdated: Oct 18, 2017 10:02 AM
Springs Global and Walmart Celebrate B'ville Plant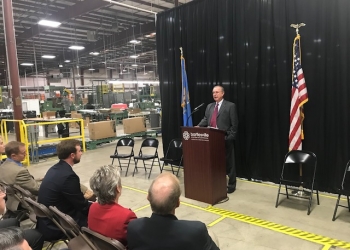 Evan Fahrbach
Springs Global and Walmart celebrated their working relationship and praised the city of Bartlesville on Wednesday morning.
Officials from Walmart and Springs Global spoke to their employees and other officials during a press conference about the two companies and their partnership.
Springs Global has a pillow manufacturing plant and warehouses in Bartlesville. The plant in Bartlesville makes pillows for Walmart and its 4,000 stores nationwide. Springs Global is one of the top-20 employers in Bartlesville with around 140 workers.
State Representative Earl Sears was on hand and thanked both the companies for their commitment to the area.
The representatives had a reception before the press conference. The event wrapped up with a tour of the Springs Global facility.
It is located in the Bartlesville Industrial Park off HWY 60 to the East of Bartlesville.
« Back to News