News
Local Events
Posted: Sep 13, 2017 11:00 AMUpdated: Sep 14, 2017 8:24 AM
CEO Lance Addresses Chamber Forum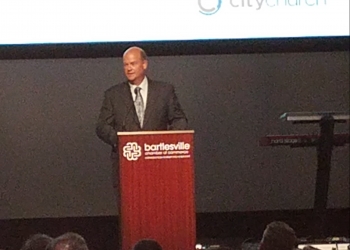 Charlie Taraboletti
ConocoPhillips Chairman and Chief Executive Officer Ryan Lance told a Chamber of Commerce forum the company survived Hurricane Harvey reasonably well. Lance says employees and facilities were certainly affected but for the most part, business went on, in many cases,
thanks to the ability to relocate operations to Bartlesville
.
Lance says ConocoPhillips is finding what he calls the "sweet spot" on crude oil prices and the efficient way to be profitable company in today's environment. Lance was confident when he says there is a century's worth of natural gas available in North America.
The ConocoPhillips forum was held at City Church in Bartlesville.
« Back to News