News
Osage County
Posted: Sep 08, 2017 4:52 PMUpdated: Sep 08, 2017 4:52 PM
New Tour Service in Pawhuska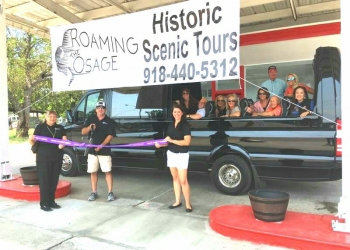 Bill Lynch
If you are planning a trip to Pawhuska there is a new business which will allow you to enjoy the majestic splendor of the Osage. Casey Hindman is the owner of Burbank materials and has now opened a tour service called Roaming the Osage at 429 E. Main Street in Pawhuska.
The Pawhuska Chamber of Commerce hosted a ribbon cutting on Friday for the new business which takes up to 18 passengers on a luxurious one and a half hour tour in a 2017 Mercedes-Benz Convertible Bus. The tour heads out to the Tallgrass Prairie through the City of Pawhuska and out to Burbank Field. Prices for the tour at $27.50 and reservations are encouraged for Friday and Saturday tours.
Roaming the Osage will offer two tours on Monday, Tuesday, and Wednesday at 2 and 4pm; and on Thursday, Friday, and Saturday four tours will be offered at 10am, 12, 2, and 4pm. Reservations can be made by calling them at (918)440-5312.
Photo Courtesy of the Pawhuska Chamber of Commerce
« Back to News