News

Sports
Posted: Jun 19, 2017 7:41 AMUpdated: Jun 19, 2017 7:41 AM
BHS Still Updating Facilities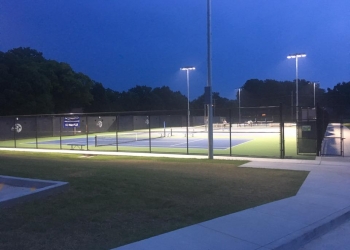 Evan Fahrbach
The offseason continues for all high school athletic departments in the state, but the next school year inches closer with every day.
At Bartlesville High School, the athletic department is still overseeing a lot of renovations and facility upgrades this summer. BHS Athletic and Activities Director Ryan Huff talks about a few of those that are still ongoing.
The newly renovated tennis courts to the north of Custer Stadium also just had lights put up so play can continue once the sun goes down.
Huff, who was hired this spring as the new leader of the Bartlesville High Athletic Department, will officially begin that job on July 1.
He wrapped up his duties as Central Middle School Principal earlier this month and has moved entirely into his office at the high school.
« Back to News